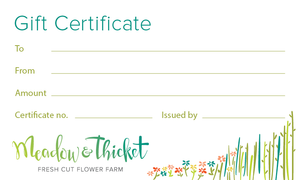 Gift Certificate for Locally Grown, Fabulous and Unique Flowers
You want to surprise someone with locally grown, truly unique flowers, but you are far away....maybe you want to send flowers, but are not sure what to send,  maybe they want 3 small bouquets, not one large one, maybe they want sweetpeas not sunflowers....letting them decide with a gift care may be just the ticket!
Available in pre-set denominations or if you would like a specific amount of your choosing, contact us directly and we will make it happen!
The gift card will be hand lettered and mailed to your special person, the very romantic "snail-mail" way (1-4 days).  If you are in a rush, let us know and we can arrange to have it couriered or delivered by hand.